The title makes you think of gushing water, doesn't it?
I'm actually talking about Robert. And let me make it absolutely clear that I mean the title as a compliment, not as a put down. Robert is one of the most reliable people I know. If he says that he will do something, you can count on his keeping his word. He's faithful at church, at work, to his friends, and, most important to me, to his family.
Robert vowed to love, cherish, protect, and provide for me. He does a great job at all of those, and he's always seeking for ways to do better. And that gives me plenty of reason to love him.
7. He has supported and encouraged me as I have fought major depression, even though he has never suffered from clinical depression and doesn't understand it.
8. He is helping me figure out how to improve the way my scattered ADHD brain functions.
9. He helps the girls with their homework so I can concentrate on making supper without that stress.
9. I never worry about "his" household chores not being done. Whether it's taking out the garbage, mowing the lawn, raking/burn leaves, or ironing his clothes on Sunday mornings, he always takes care of it. And does a good job, too.
10. Even though he's under a lot of stress at work right now, he isn't treating his family badly. (Me? I'd have bitten everyone's head off by now!)
11. He's the reason Little Bear FINALLY was weaned a month ago. I couldn't handle the crying so Robert took over night shift for a while. Now, Little Bear sleeps through the night most of the time, which means I do, too. (Hurray!!!)
12. When he has a weekday off from work, he often gets up and takes the girls to school so I can sleep in.
I really admire Robert's steady personality and strong character. I'm so happy to be his wife.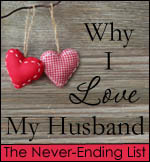 This post was inspired by the "Why I Love My Husband" link up party over at The Happy Wives Club. Click the button to read other wives' stories of why they love their husbands.