That's him. My handsome fella. The guy who captured my heart in 1998 and who endears himself to me a bit more each day. The father of our six children. The guy who usually appears serious but has a serious streak of fun hidden in him.
We've been married since 1999. This year we'll celebrate 14 years of marriage. (How is that even possible?!) And I look forward to many more decades of living with and loving Robert, my Mr. Incredible.
Here are some of the reasons why I love him.
1. He makes me laugh. I'm serious by nature, and Robert's humor and sense of fun add quite a bit of enjoyment to my life.
2. He loves me when I'd characterize myself as unlovable. His love is deep and enduring and doesn't waver even when I act like the world's biggest jerk. He just hangs on tight and loves me in spite of myself.
3. He's reliable. Two months ago, I found out that I have adult ADHD. Which explained a lot. I really count on and appreciate Robert's reliability. He remembers and takes care of not only his responsibilities but also helps me keep track of min.
4. He's patient. He tells me that he doesn't have much patience, but I live with the man and can safely, and factually, contradict that statement.
5. He's a hard worker.
6. He's supportive and encouraging. If he knows I'd like to do something, even if it's a tad crazy, he works to give me the opportunity to fulfill that desire.
Case in point: Rochelle Riley, a journalist friend of mine, had a celebration/fundraiser on 12/12/12. She invited me to come. She lives in Detroit, MI; I live in eastern NC. I have 5 kids ages 10 and under. I'd have to leave them for 2 days AND travel by myself. Despite his deep reservations, Robert let me go.
This isn't the end of the list. I'll be adding to it on a regular basis. I've found that how I think about my husband becomes the lens through which I view him. So listing the reasons I love him is a good way for me to keep thinking loving thoughts about him. Then those loving thoughts become loving actions, and our bond is strengthened. What could be sweeter?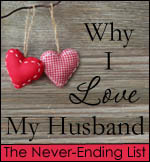 This post was inspired by the first "Why I Love My Husband" link up party over at The Happy Wives Club. Click the button to read other wives' stories of why they love their husbands.